Sep
10
Sat
Todd Snider's East Nashville Revue
Outdoor Stage
Gate: 4:00 pm / Show: 5:00 pm
DETAILS
TICKET AVAILABLE AT BOX OFFICE AT 4PM
EVENT SCHEDULE
3:30pm – VIP Early Entry
4:00pm – General Admission Gates Open
4:30pm – 1st VIP Guided Tour & Tasting (Meet in Taproom at Indoor Stage)
5:00pm – 2nd VIP Guided Tour & Tasting (Meet in Taproom at Indoor Stage)
5:00pm – Rory Carroll
5:30pm – 3rd and FINAL VIP Guided Tour & Tasting (Meet in Taproom at Indoor Stage)
5:35pm – Kevin Gordon
6:10pm – Aaron Lee Tasjan
6:50pm – Elizabeth Cook
7:45pm – Todd Snider
9:00pm – Todd Snider and the Bulldogs
We embark upon a special evening of song-craft, tall tales and story-telling with an eclectic group of Nashville's finest wordsmiths and led by none other than Todd Snider. Featuring sets from Todd Snider, Elizabeth Cook, Aaron Lee Tasjan, Kevin Gordon, and Rory Carroll this one-of-a-kind evening is one not to miss!
TODD SNIDER
Agnostic Hymns & Stoner Fables is Todd Snider's inspirational album.
"I want to inspire people," Snider says. "I want to inspire them to leave home, to do things traditionally considered wrong. If you listen to my record and vandalize your school, godspeed. If you listen to my record and punch your stepdad, thank you, you've made me feel better about
what I do. I don't believe in the American dream, and family values can suck my asshole's balls."
Snider says this while smiling, because he says most things while smiling, because he knows family values are unlikely to do such a thing, and because he's on the happy back end of happy hour at a favorite East Nashville bar. He's laughing but not necessarily kidding, and Agnostic
Hymns & Stoner Fables is anything but a nice, folk/Americana troubadour album. It's not a nice anything.
It is jagged, leering, lurching and howling, and filled with unhappy endings both experienced and intimated: "It ain't the despair that gets you, it's the hope," he sings in the album-closer, "Big Finish." That Agnostic Hymns & Stoner Fables is also roaringly funny is tribute to Snider's unique sensibilities, and to his standing as what Rolling Stone magazine calls "America's sharpest musical storyteller." Anguish without laughter is boring, like intensive care without morphine, and Snider has never been within 100 miles of boring. Also, he didn't earn the
attention, friendship and fandom of American musical giants like Kris Kristofferson and John Prine by writing mopey protest songs.
Anyway, these aren't protest songs. They're inspirational. We've covered that already, right? It's populated mostly by losers in the midst of losing, with a couple of spotlight appearances from the humbly anointed 1 percent. The result is something disconcerting, cracked and wholly original. It's something that stands apart from the music of Snider's heroes, and from Snider's own, much-celebrated past. Agnostic Hymns & Stoner Fables is Snider's 12th album (14th, if we count a "best of" set and a collection of B-sides and demos.
Snider doesn't talk around the vulnerable part, or the angry part, or the part about how everything we're taught about goodness and righteousness and capitalism, about God and family values winds up exploding into violence and chaos, wonder and longing. He doesn't talk around how the whole deal is enough to make you vandalize your school, punch your stepdad, or make lewd suggestions as to just what family values might do in their spare time. And he doesn't talk around the part about how he doesn't know any more than you do about any of these things, or the part about how he might be wrong. It's just that nothing has been delivered yet, nothing revealed. It is, as he sings, too soon to tell.
ELIZABETH COOK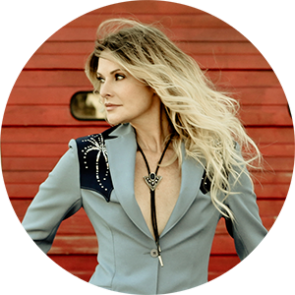 Elizabeth Cook's Revival: Exodus of Venus
Elizabeth Cook didn't quite know what she was doing. But she knew there were songs, and they had to get out. Six even years since her critically acclaimed Welder, as well as much personal tumult, there were songs that needed to be born.
"If anything, (Exodus) is a pledge of allegiance for the bad girls and the Homecoming Queens who got caught in a scandal. It's a bill of rights, and a testimony for those good girls who got away with more than they should have.
"I'm slow, and getting slower," laughs the lanky blond, unapologetically. "I'm taking my time, really drilling down. There were nine versions of 'Methadone Blues.' I've never done that before. I love that entrenchment and dedication – and I wasn't going to do any less than what needed to be done."

From Dexter Green's (also the album's producer) opening electric guitar, equal parts foreboding and fraught, "Exodus of Venus" hurls a churlish witness to erotic upheaval and the drives that subsume our best notions. "Exodus" is an exhortation of sexual surrender that pushes past the brink of reason.
AARON LEE TASJAN
East Nashville, TN November 2013-"Don't walk away, I'm talking to you," sings Aaron Lee Tasjan in the first chorus of the first song off of his new EP, Crooked River Burning. The song is aptly titled Don't Walk Away and covers a lot of ground in four minutes and twenty-one seconds. It is, in it's own way, much like the artist himself: filled with insight and brutal honesty, humorous and sincere in a fashion which is truly unique to the man delivering the song. These songs have been heard all across the USA this past year; in just about every bar, parking lot, van and music club that is still open and still puts on live music. As you listen to the songs on this EP, you begin to understand that while Tasjan seemingly works endlessly to bring his music to whomever will listen out on the road, he is also singing these songs because he has to. There is pain within the reedy Midwestern drawl of his voice but also the ability to laugh at life's misfortunes and ultimately transcend them by putting into words and music all of his thoughts and experiences along the way.

KEVIN GORDON 
A Louisiana native, now 20-year East Nashville resident, Kevin Gordon is a touring recording artist and songwriter. His latest release, Gloryland, garnered high critical praise from The New York Times, USA Today, Rolling Stone, and many others. His songs have been covered by Keith Richards, Levon Helm, Irma Thomas, Ronnie Hawkins, and more. The title track from his Down to the Well CD, a duet with Grammy winner Lucinda Williams, was featured on two prominent compilations: the Oxford American Southern Music Sampler, and No Depression: What It Sounds like, Volume 1. Also a published poet, Gordon earned an MFA degree from the renowned University of Iowa Writers' Workshop. 
ROREY CARROLL 
Rorey Car­rol­l's sound rolls in low and pow­er­ful with the feel­ing of a Taran­tino film for the ears. A new kind of "Coun­try West­ern Folk-n-Roll"
With mu­si­cal roots in the blue­grass world, she has de­vel­oped her sound into some­thing unique and bold pulling from rock/amer­i­cana/folk in­flu­ences. As an writer, Car­rol­l's strength is show­ing beauty in every­thing, from smoky bar rooms to the lit­tered streets. She not only seeks those places out, but paints them in gor­geous Tech­ni­color with the voice of one who has been there.
Her song­writ­ing de­liv­ers the hon­est sub­tlety of liv­ing the life of a gypsy, while still long­ing for the sim­plic­ity of small town hap­pi­ness.